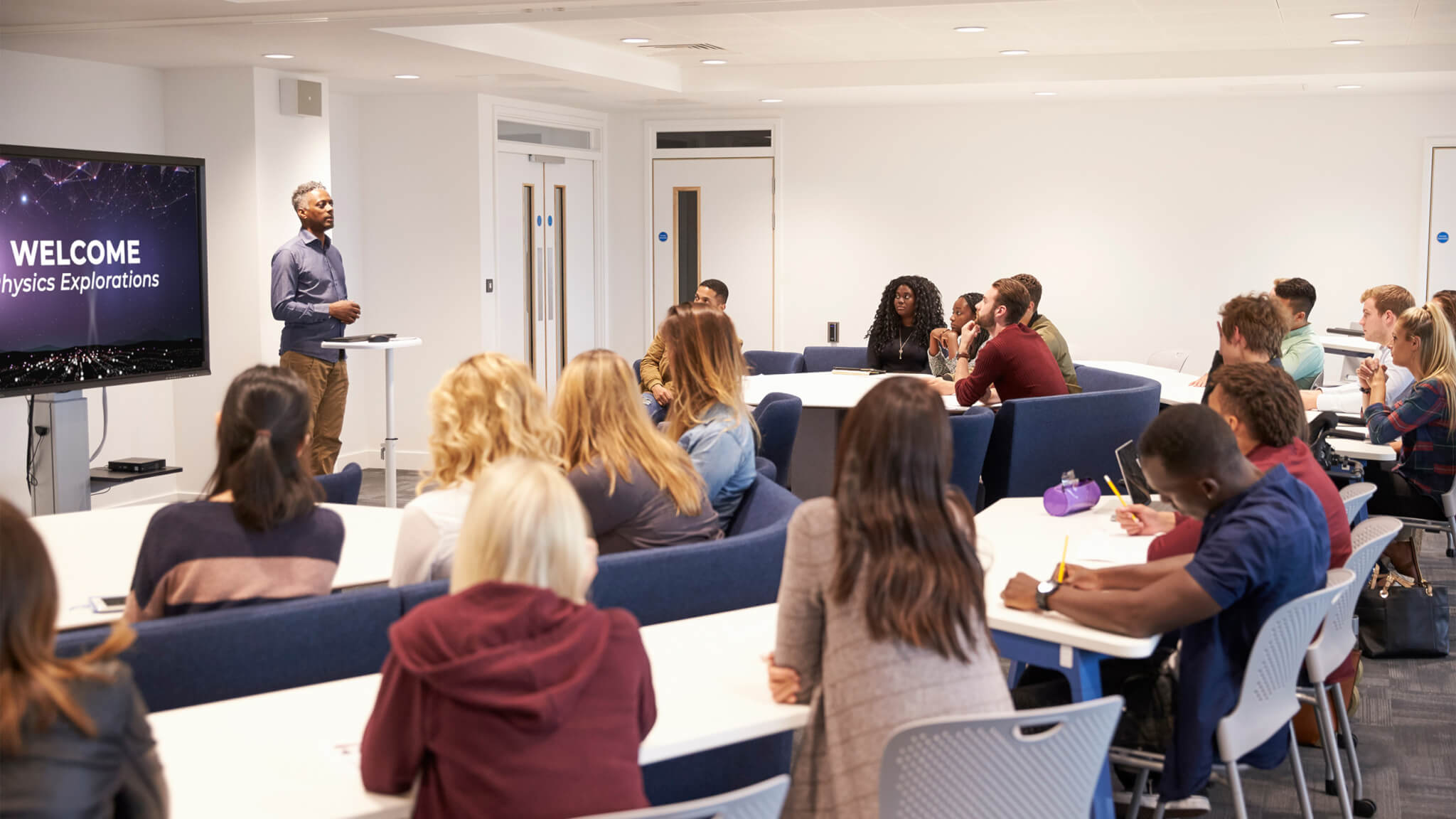 University IT directors don't have any time for a breather – so let's pause for a moment on their behalf, and consider the pressure they're under these days.
Higher education institutions operate in an environment that's more competitive than ever, educating students whose expectations are greater than ever, while facing technology issues that are more pressing than ever. And the one thing all these challenges have in common is the scarcity of funds to fully address them.
While everyone's feeling the strain, IT staffs often feel like they're at the center of a bullseye – charged with giving students a technology experience that's at least equal to what they enjoy at home; creating and maintaining classroom technology navigable to a wide range of faculty; and providing service and support to every user quickly and economically. All while navigating the hybrid revolution, relentless technological change, and public health disasters.
What's an IT director to do, other than request a very long sabbatical? The natural course of action is to seek relief in the area they know best: the technological realm. And here they'll find a category of solution that even the most tech-averse faculty member or administrator can endorse.
The Power of Proactive Monitoring & Support
Even before the world went hybrid, higher ed presented IT teams with the challenge of supporting sprawling educational environments. Large state universities can have multiple campuses, and even small liberal arts schools have decentralized facilities. Making matters worse, higher ed institutions can have any number of cost centers, run by various groups, buying their own solutions from various manufacturers.
The Holy Grail in proactive monitoring and support is to have a single dashboard that enables support staff to see everything they need in one place. Many manufacturers and solutions providers promise an all-informing dashboard, but too often that promise comes with an asterisk: Only their equipment, or one particular solution, is included.
True proactive monitoring and support – the kind that's truly useful – will encompass every connected device in every room, everywhere.
The need for comprehensive monitoring is greater than ever, in part because classrooms have gotten far more complicated, far more quickly, than anyone ever imagined. In the heat of the pandemic, classrooms that once had rudimentary distance learning solutions suddenly featured layers of them.
All these solutions, and all the people using them, need support. And support – especially on-site assistance – costs money.
Most campuses provide two categories of support: systems support, for hardware and software; and user support, principally for students and faculty.
Without remote monitoring, it can be almost impossible to know who to dispatch. Technical support team members' skills typically encompass both system and user needs, so when the cause of the issue is unclear, they're the ones apt to be sent out. But there are fewer of them, and they're a more expensive asset for a university. Dispatching high-skill tech team members when lower-priced help could do the trick is a costly way to cover your bases.
With Remote Monitoring, Relief is Close at Hand
Now, here's what happens when you have remote monitoring and management in place.
First, the monitoring technology will determine if the issue is system related vs a user issue. Second, due to the nature of remote monitoring ­– which involves continuous checking and rechecking of the working status of all your connected devices – odds are you'll be alerted to the problem not when a user notices it, in the middle of class, but when the break occurs – perhaps days earlier.
Services like Pro-Tech Management offer multiple tiers of service: remote monitoring, remote servicing, and a combination of remote and on-site support as needed. In the above scenario, Pro-Tech would alert the IT team to a system issue the moment it occurs, allowing them to address the problem – remotely or onsite – before the user even discovers something is wrong.
"It's all about efficient use of resources," says Steffan Ramage of Pro-Tech. "Remote monitoring and management identifies issues before they become problems. Moreover, it tells you just what it's going to take to resolve the issue. Never again will you have to dispatch a system support specialist to handle a user-support issue."
Frustration's High, and the Stakes Are Higher
To really appreciate the benefits of remote management, consider what's at stake when systems go wrong in heavily used, large-capacity classroom environments.
You might have 200 students (or 600 at a large state school) streaming into a lecture hall equipped with multiple displays, complicated routing, and sophisticated presentation technology. If a professor comes to class, turns on the system and discovers a system failure, hundreds of hours of cumulative education time will be lost.
Faculty will be frustrated. Students – who are already wondering if they're getting full value from their tuition dollars – will be maddened. Support teams will also be stressed, along with the university administrators who are charged with recruiting and retaining students and staff. Then there are the logistical challenges that arise from technology failures. In university settings, where collaboration spaces typically are in use about 80% of the time (vs. 25% for corporate facilities), rescheduling even a single large class can create a cascade of hassles.
"Technology managers at colleges and universities understand how remote monitoring can prevent nightmare scenarios," says Ramage. "But the beauty of this technology is that it provides benefits that go well beyond the preventative."
Data You Can Actually Act On
What Ramage is referring to involves the full capabilities inherent in a robust monitoring and management system like Pro-Tech Management, which is powered by the Utelogy software-based platform. While monitoring the working status of all connected devices, it provides a vast range of data and analytics about system use. Add occupancy sensors to your solution, and it will also provide valuable room usage data.
"Let me give you an example," says Ramage. "Say your university lacks remote monitoring and management, but has an online booking system that tells you which rooms are reserved and when. The problem is, we all know that rooms get booked all the time and don't actually get used. Consequently, you have only the most rudimentary knowledge of what kind of ROI you're getting on your facilities and the technology."
With a Utelogy-powered system like Pro-Tech Management, technology managers know whether, how and when every single connected device is being used. "You'll know exactly what kind of return you're getting on your technology investment," Ramage explains. "The upshot is, you'll stretch your technology budget further. You'll get more out of your hardware and software. And you'll spend less to support it."
Sold on Remote Monitoring and Management?
Not so fast! Don't rush headlong into just any offering. Here are some questions to ask a prospective partner:
How comprehensively will you manage my AV infrastructure? The answer you want is that you'll be kept 100% aware, 100% of the time. This requires a partner whose monitoring technology, like Utelogy, is compatible with all your equipment (otherwise, what's the point?).
How will I be informed of my system status? Insist on a partner who will provide all the information you need, all on one dashboard. Moreover, that dashboard has to be accessible to you wherever you are. And when there are issues, the service should inform you not only on the dashboard, but through emails and texts (you decide the particulars of how you'll be informed).
How do you price your service? Responsible providers will only charge you for the coverage you need – meaning the amount you pay will be a direct reflection of the equipment you have. They should also give you the option of monitoring as an à la carte option, or as part of a plan that includes remote servicing, or remote and on-site servicing. Pricing should be clear and transparent as well.
When remote troubleshooting & repair are needed, what category of technical expertise can I expect? Pro-Tech Management offers access to remote CX coordinators and, as needed, remote CX engineers. They're accessible via phone and email support. Subscribers to Pro-Tech's top tier of support also receive next-business-day onsite tech support when needed.
Are data & analytics included in the price of the service? If they're not included, find another partner.
One Final Question to Ask
 "Is 30 minutes fast enough?"
This is the average amount of time it takes to get onsite assistance when you suffer AV equipment failure in your classroom.
In the hyper-competitive, technology-dependent world of higher education, few institutions can afford that kind of interruption.
Yet the fact is: "Technology fails WILL occur. That's simple physics," says Ramage. "Which is why, instead of going crazy wondering when the next catastrophe will strike, college and university technology managers are increasingly embracing proactive monitoring and management. It's the one sure way to keep your technology on track – and your support staff off the ledge."